Delivery Information
We deliver to all areas across Kuwait.
The moment you complete your purchase, your delivery will be processed. We will send you a confirmation email to the email address you have provided, which includes the goods you have ordered and their cost.
Delivery Options
Home Delivery - FREE Delivery on all orders.
| | | | | | |
| --- | --- | --- | --- | --- | --- |
| Delivery Type | Item | Value | Cost | Free Delivery | Delivery Time |
| Parcel Delivery | Accessories (small items) | Under KWD 30 | KWD 3 | Above KWD 30 | 1-2 days |
| Truck Delivery | Large Items | Under KWD 150 | KWD 8 | Above KWD 150 | 1-7 days |
| Click & Collect | Accessories Only | No Minimum | Free | Free | Unavailable |
Safety Measures
In light of current circumstances, we are taking every measure to ensure the safety of our customers & employees. We have imposed strict hygiene and sanitation protocols at every step of the order & delivery process that put safety first. The precautionary measures include: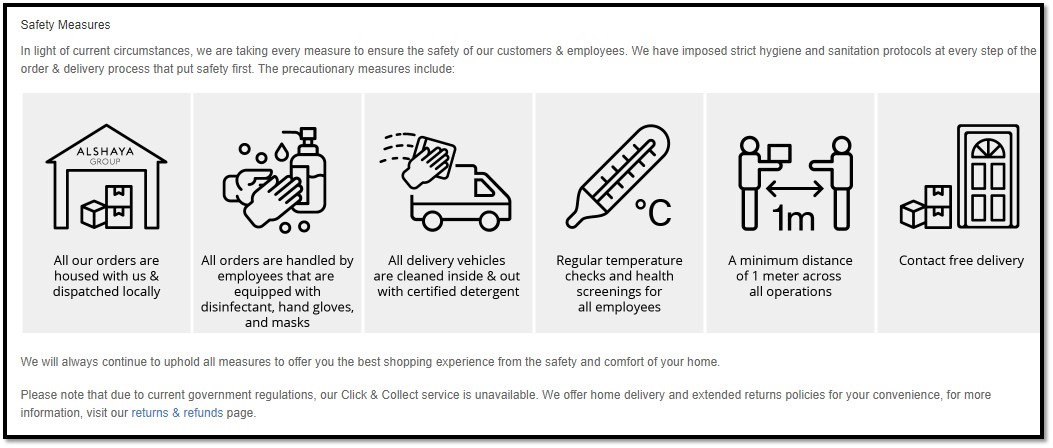 We will always continue to uphold all measures to offer you the best shopping experience from the safety and comfort of your home.
Home Delivery: Accessories
Accessories
Accessories Include: (Bedding, Bath, Decor & Cushions)
Please note: Cash on delivery orders are subject to a KWD 2 service charge.
White Glove Delivery
Large Items Include- (Furniture: Outdoor, Home Office, Living Room, Rugs, Bedroom & Lighting)
For more information about our White Glove Service visit our FAQ's page
Cash on Delivery
The cash on delivery option is currently unavailable. We offer alternative online payment options through debit/credit cards.
Click & Collect
You can pay online and we will deliver your order to the selected store for collection. After placing your order, you'll receive a confirmation email / text message with order number. Please wait for an email and/or SMS from us telling you when it's ready to collect.
If you're unable to collect your order for any reason, please contact us on +965 182-1212.
Please note that we're unable to accept orders that include either non-available item or items for collection from one of our stores as well as items for home delivery. In these cases please place two separate orders – one for collection and one for home delivery.
We keep your order in store for 7 business days.
All uncollected orders will be cancelled and any payments made will be refunded to the card used for the purchase.
For more information, please visits our FAQ's page.